THE LUIGANS Spa & Resort Restaurant
MR. Hamburg
A hamburger steak that is open for lunch only. The menu includes a special hamburger set meal.
We also have counter seats and semi-private rooms with a lively atmosphere that craftsmen tailor in front of you.
Enjoy day and night hospitality at the hamburger cafeteria during the day and the new restaurant with seasonal Japanese treats at night.
* For the time being, it will be open irregularly. For more informationHere
LUNCH
lunch
厳選した合挽肉を丁寧に練り上げ、じっくりと網焼きしたハンバーグ。お肉の旨味を引き立てることにこだわった定食です。
付け合わせには、季節を感じる旬の野菜をご用意。
3種類のソースからお好きなものをお選びください。ハンバーグによく合うトッピングもおすすめです。
■ハンバーグ定食
Small hamburger steak (150g) ¥ 1,500
Medium hamburger steak (200g) ¥ 2,000
■NEW■サイコロステーキ定食 ¥2,100
■NEW■和牛カレー定食 ¥1,500 
■トッピング
Fried shrimp ¥ 500
Itoshima sausage ¥ 500
Cheese ¥ 100
Fried egg ¥ 100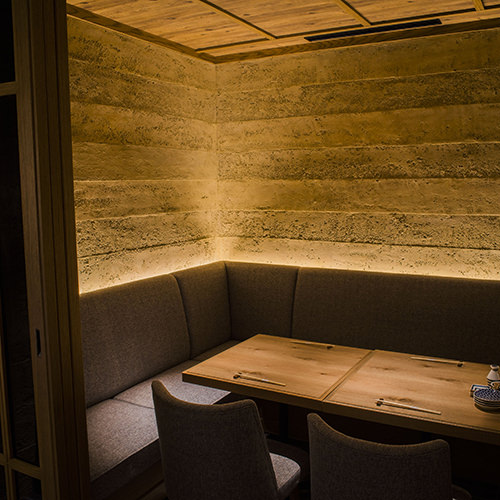 PRIVATE ROOM
Semi-private room
The semi-private room for 4 to 5 people that can be reserved can be used for multiple purposes such as private meals with family and friends, business scenes, etc.
Information
Hours of operation
lunch
11:30-14:00 (LO)
Regular Closing Days
不定休
・7月の店休日 | 4-5日、9-12日
Address
18-25 Saitozaki, Higashi-ku, Fukuoka-shi, Fukuoka-ken

Google Map

092-603-2590 (10:00〜20:00)
Seatings
Counter 15 seats
Table 30 seats
Menu, rates may vary depending on the season.
The price for the guide is the amount including tax. A 10% service charge will be added to the information rate.
Please feel free to contact us if you have any concerns about food allergy or food ingredients.
Please feel free to contact us with other requests or questions at any time.