THE LUIGANS Spa & Resort Wedding
Ceremony in an eternally memorable location
A chapel that can be selected from 5 areas such as indoors and gardens. It is only here that makes use of this location
The ceremony is a moment when you can not forget it.
(Christian-style, public-style, God-style available)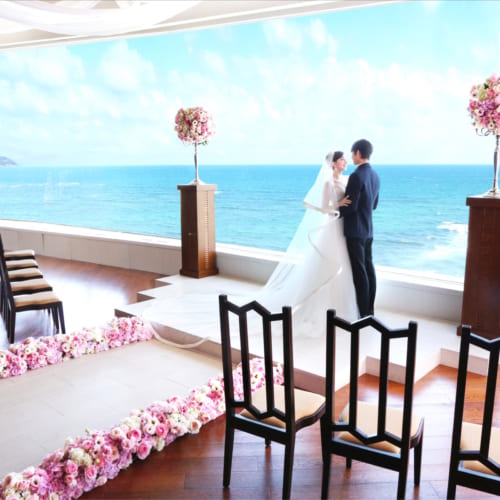 The Music Hall On The Ocean
The Music Hall on the Ocean
"The Music Hall on the Ocean" is a chapel that boasts blessed ocean views from the ocean and the sky. The natural light from the large window wraps the two who walk along the Virgin Road following the sparkling sea. It is a new wedding space opened NEW in 2018.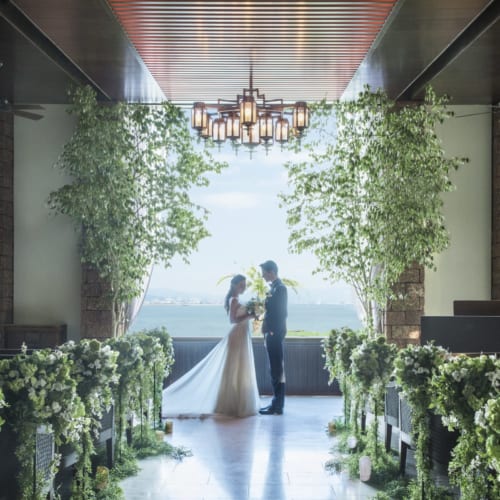 The Music Hall On The Green
The music hall on the green
A chapel "The Music Hall on the Green" where both the blue of the sea and the green of the plant are felt. A garden full of green is surrounded by the side, the destination of the Virgin Road, and the deep blue sea beyond the front window. A church in the hotel, full of warmth of trees and natural light.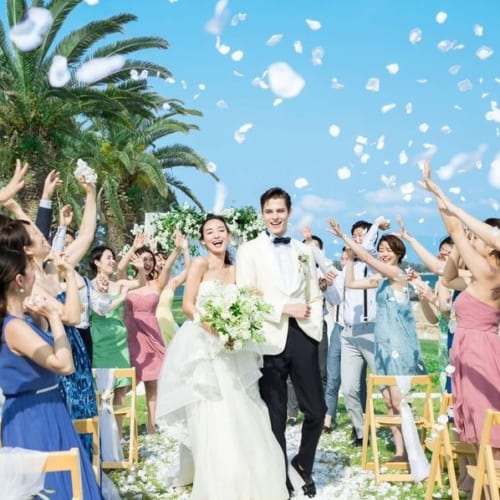 GARDEN & SEASIDE
Garden & seaside
A vast garden on the hotel grounds. A wedding ceremony in an outdoor chapel specially set up in a garden full of nature facing the sea. The inspiring ceremony of swearing love for the sparkling sea is deeply engraved in the hearts of the attendees. The sky and the sea that stretches forever. A longed-for seaside wedding in a location where a pleasant sea breeze blows through.
It is also possible to hold a wedding ceremony with a pet such as a ring dog by a pet dog.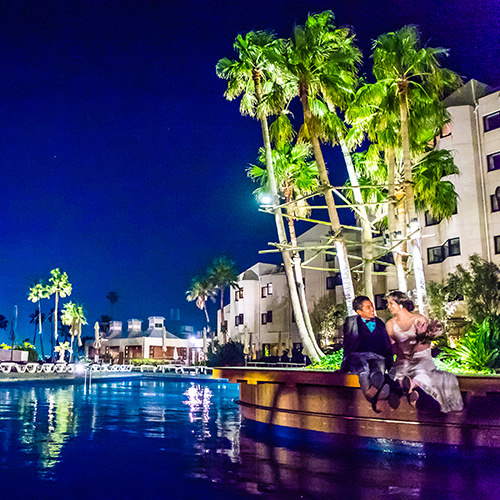 POOLSIDE
Poolside
The wedding ceremony at the chapel, which is specially set up for the outdoor pool, is also a romantic option unique to the hotel. The ceremony by the poolside where the sea and the green spread in front of you will remain forever in the hearts of you and your guests. THE LUIGANS Spa & Resort Evening ceremonies are also popular according to the light-up.
DOLPHINE CEREMONY
Dolphin ceremony
A dream-like ceremony to receive blessings from the dolphins of "Marine World". At the Dolphin Ceremony, dolphins celebrate with a splendid jump on the show poolside.