ACTIVITIES
Activities at The LUIGANS Spa & Resort
There's an abundance of activities to enjoy in the vicinity of the hotel: the vicinity of the hotel: strolling among the natural attractions of Uminonakamichi Seaside Park or Shikanoshima;
marine recreation in Hakata Bay; serious sports like tennis and golf; and such easygoing pastimes as making the rounds of tourist spots or just following your curiosity where it leads among the charming byways of Hakata.
PLAY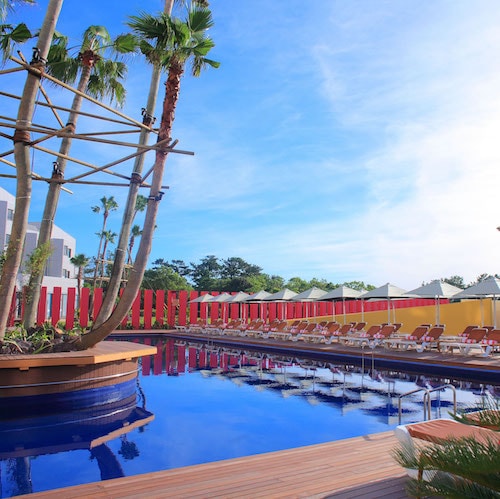 Luigans Pool
A pool surrounded by palm trees. Beyond, a clear view of blue sky and the blue waters of Hakata Bay worthy of a tropical resort. There's also a children's pool.* Summer only
Marine World
The Marine World aquarium adjacent to the hotel offers a rich program of hands-on experience as well as a variety of shows and seasonal events to delight all ages. This is an aquarium where one can feel really close to the creatures of the sea.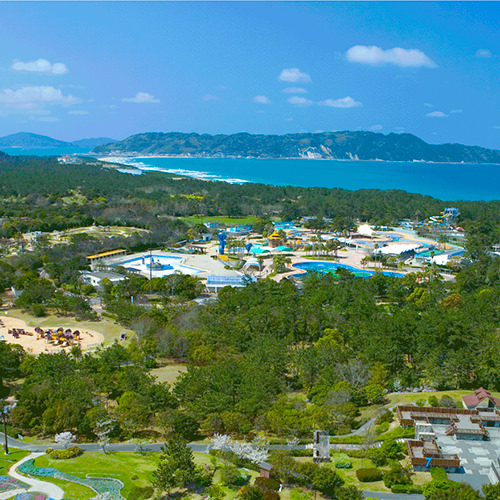 Uminonakamichi Seaside Park
This national park located in Fukuoka boasts a vast area of 2,920,000 square meters in the center of Uminonakamichi. Beginning with the daffodils of early spring, the seasons lay on a continuous pageant of flowering plants: cherries, tulips, nemophila, roses, sunflowers, cosmos. The many popular spots for leisure or thrills include a day campground overlooking the sea where you can enjoy a barbecue, an animal land where you can get close to squirrel monkeys and capybaras, a roller slide, and a giant trampoline called the Kujiragumo "Fuwan porin". In summer, the Sunshine Pool, one of Western Japan's largest swimming pools, is the place to be.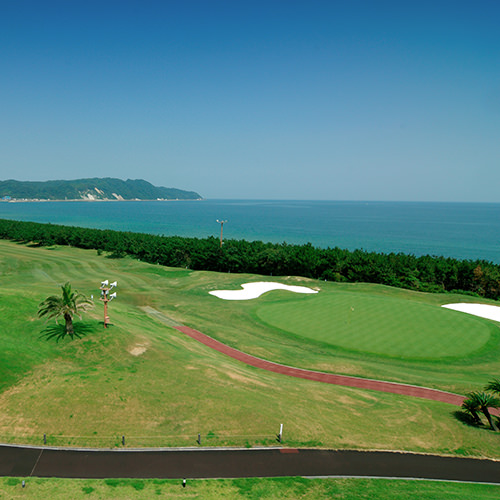 Saitozaki Seaside Country Club
The golf course in Uminonakamichi presents a wonderful scenic view of the Genkai Sea past Shikanoshima. This is a seaside course where you drive down towards the sea. It offers visitor-only play and club rental bookings.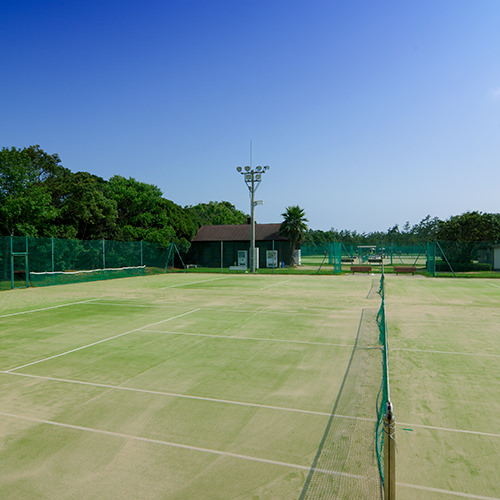 tennis
Tennis courts are available for booking and use at Uminonakamichi Tennis. Since you can also rent rackets, shoes, and lockers, there's no need to plan ahead. You can just come empty-handed.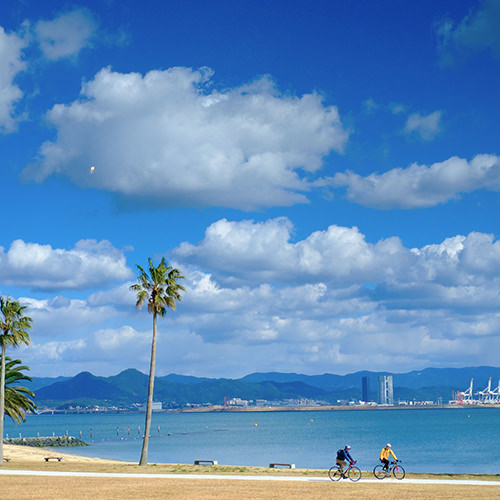 Cycling
The Minato Cycle Station provides a bicycle rental service. This lets you get away and spend some time wandering — in the beautiful Uminonakamichi Seaside Park, along the road to Shikanoshima, or wherever your fancy takes you.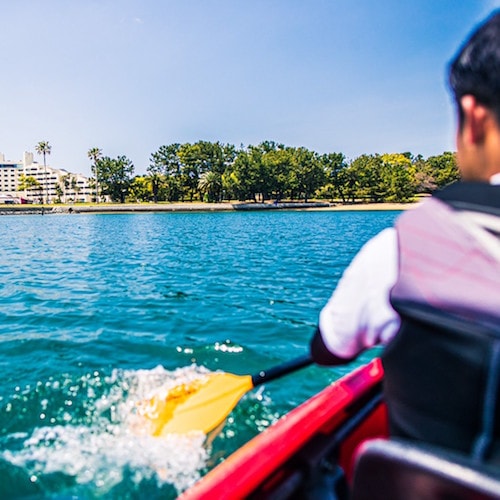 Sea kayaking
Sea kayaking in a spacious and calm sea. You can relax and enjoy your own pace while feeling a pleasant sea breeze. Instructors will accompany you, so even beginners can participate with peace of mind. (* Closed in winter)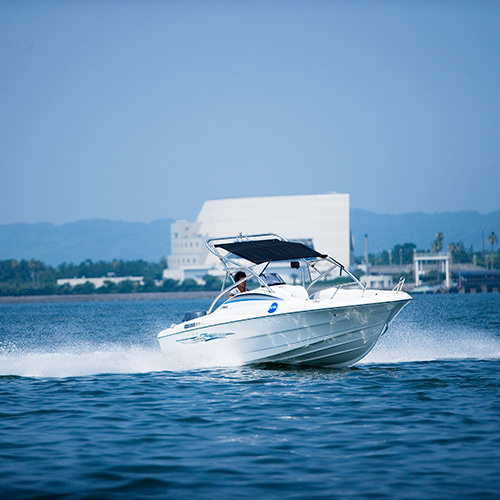 Cruising
Hakata Bay Cruising will take you on a cruise in the refreshing sea breeze from Uminonakamichi Tennis past such defining sights of Fukuoka as Fukuoka Tower, Fukuoka Yahuoku! Dome, Hakata Wharf, and the island of Nokonoshima. Available for small groups.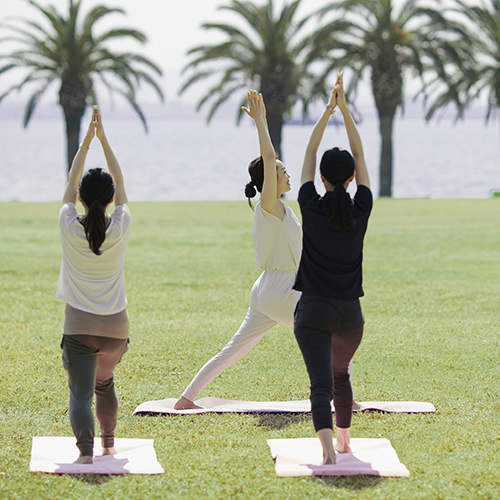 Yoga
The Luigans Spa & Resort, a hotel in a magnificent waterfront location, offers a distinctive selection of lessons for you to choose from, such as yoga in a gym that's just the place to refresh yourself, or SUP yoga in the hotel pool.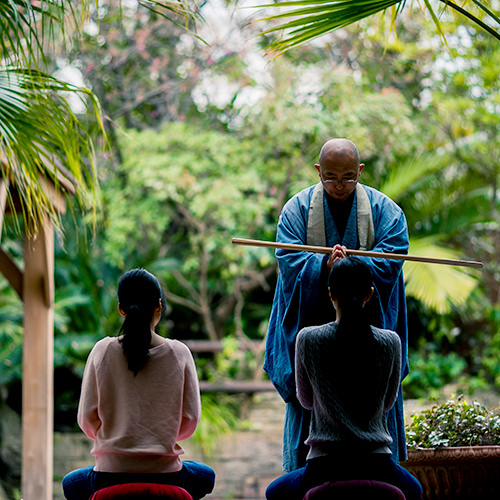 Zazen
You can experience zazen right here with the chief priest of Shikanoshima Shogonji Temple. We invite you to spend a refreshing morning interlude enfolded in the fragrance of incense. Not only hotel guests, but anyone having breakfast here is free to participate at no charge.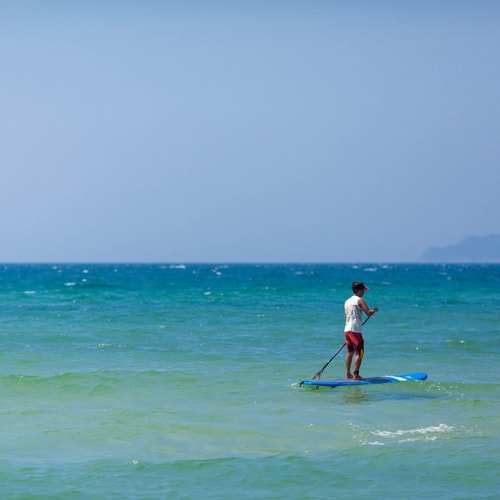 SUP cruising
Standing on a large surfboard and paddling is like walking on the sea. By paddling with paddles, you can develop a sense of balance, and at the same time, you can exercise muscles and exercise your body. Please spend extravagant luxury while watching the beautiful scenery on SUP. (* Closed in winter)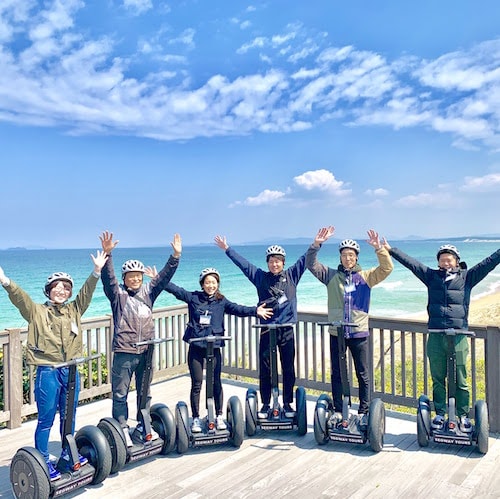 Segway
Segway tours are held at Uminonakamichi Seaside Park, where you can't go out on foot, such as the beautiful coast overlooking the Genkai Pass and the Flower Museum. Segway that allows you to feel as if you were part of your body with an intuitive operation method. It does not require special motor nerves, muscle strength, or balance, so it is recommended for people of all ages.
SEE
Gold Seal Park
Gold Seal Park, believed to be the place where a certain national treasure, an ancient gold seal, was discovered. The park contains various monuments, stele bearing poetical inscriptions, and other such stone artifacts resembling the gold seal. From the observation plaza, you can look out over Hakata Bay.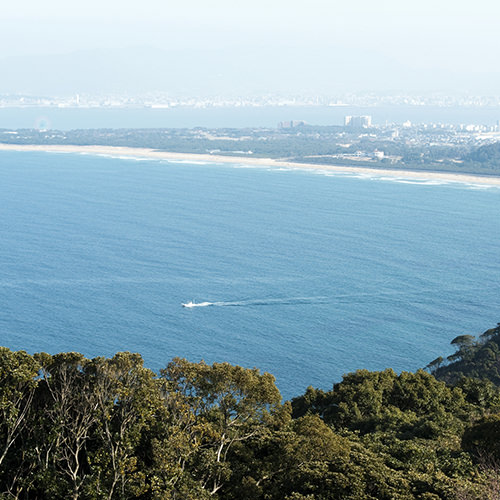 Shiomi Observatory Deck
The observation deck of Shiomi Park, the highest point on Shikanoshima, is a scenic spot offering a panoramic view of the entire area, including Hakata Bay and the city of Fukuoka. It's popular for the beautiful gradients of its sunrises and sunsets, as well as its romantic night view.Photo courtesy of Fukuoka City
Photo courtesy: Fukuoka City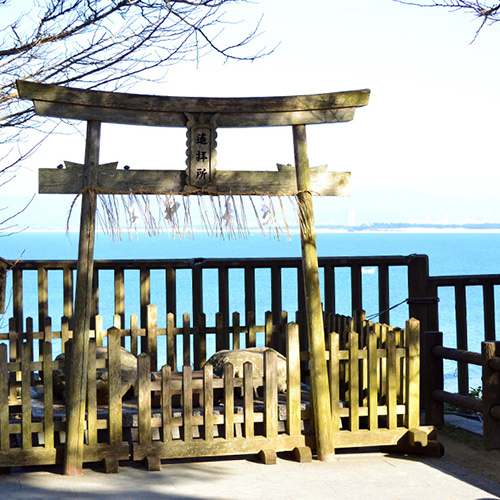 Shikaumi Shrine
Shikaumi Shrine, which stands surrounded by verdant woodland and sea on a Shikanoshima hillside, enshrines the three sea gods known collectively as Watatsumi-no-Mikami. Since ancient times, its combined deities have inspired deep faith as the tutelary gods of Hakata Bay, and its praises have been sung in such terms as "Head Shrine of the Sea Gods" and "The Dragon's Capital".
SHOP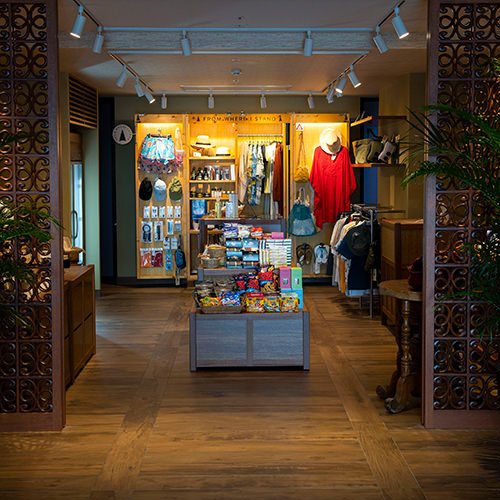 Hotel Shop
Here you can purchase not only amenities and souvenirs of Fukuoka, but also a variety of other items such as our original The Luigans Spa & Resort merchandise, Tebiyamaya brand soup stock, and clothing and accessories from the shop FROM WHERE I STAND.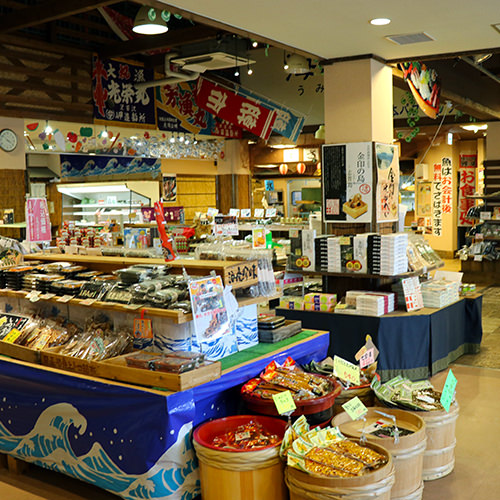 Uminonakamichi Umibenosato
As soon as you cross the causeway to Shikanoshima, you're greeted by the local-product center Uminonakamichi Umibenosato. Its full selection of unique gift items from Shikanoshima is highlighted by such specialties as natural wakame seaweed, dried fish, and turban mollusks. While you're there, why not enjoy a heaping bowlful of fresh seafood on rice in the adjoining restaurant?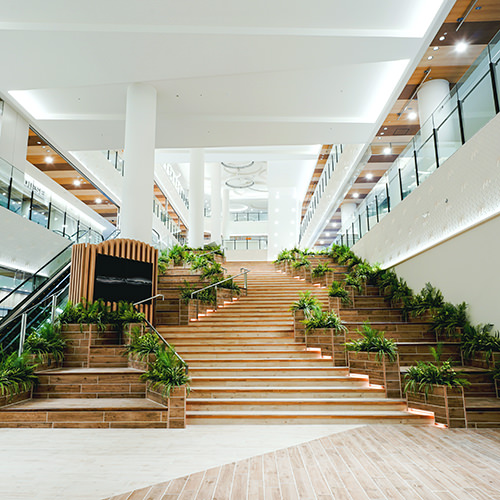 MARK IS Fukuoka-Momochi
MARK IS Fukuoka-Momochi is the MARK IS brand's largest location. This brightly spacious large-scale commercial facility adjacent to Fukuoka Yahuoku! Dome features an atrium containing the facility's trademark grand stairway and a deck bathed in natural light.
Canal City Hakata
A large shopping mall situated along the Naka River not far from Hakata Station, featuring restaurants, a cinema complex, a theater, and amusement facilities. It's also the scene of fountain shows and live events.
CANAL CITY HAKATA 2019 Ⓒ FUKUOKAJISHO
Bayside Place Hakata
Located 20 minutes by rapid transit from The Luigans Spa & Resort, this is a "community place" that appeals to the five senses. Here you can enjoy a wide variety of facilities for dining, shopping, and more. These include a natural hot spring, a market abounding in fresh foodstuffs, and a cylindrical Aquarium.
©2017 Katsuhisa Fujita
Hakata Riverain
This multi-function complex offers a wide range of fine articles produced mainly in Fukuoka and Kyushu. Besides shopping, you can enjoy workshops that will help you get acquainted with Hakata as well as events and fairs highlighting the pleasures of the season. There's also plenty to delight children, such as the Fukuoka Anpanman Children's Museum.